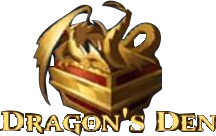 Dragon's Den is an event where the player has to explore for
Medallions
. The Medallions can then be exchanged for rewards.
Unused Medallions will not be carried over to the next event. It costs 15 Medallions per submission.
Possible Rewards
Edit
Medallions are exchanged for Creature Shards. Here's a list.
On top of creature shards, players can also receive small amounts of gems, glory, or gold. After taking into account rewards that I have received, as well as rewards that members on the forum have received, it seems as though this event doesn't benefit veteran members at all. If you are level 60+, you will most likely not have use for the rewards that you're given during this event.
Ad blocker interference detected!
Wikia is a free-to-use site that makes money from advertising. We have a modified experience for viewers using ad blockers

Wikia is not accessible if you've made further modifications. Remove the custom ad blocker rule(s) and the page will load as expected.