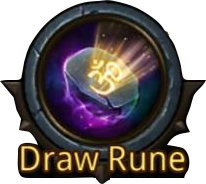 Here you can draw level 1 to 5 hero and creature runes for
glory points
or
gems
. You can choose between drawing with GPs or gems but the mechanic is the same. Only the chance of getting a rare level 4 or 5 rune is much higher by drawing with gems. You can choose with each currency if you want to draw one rune or 10 runes at a time. Their are five statues which indicate the price of the draw beginning with the cheapest to the most expensive from left to right. A draw on the first statue will cost you 50 gps or 20 gems, on the second 100 gps or 30 gems, on the third 200 gps or 40 gems, on the fourth 300 gps / 50 gems and on the fifth 500 gps / 60 gems. A light shining on a certain statue indicates on which statue the next draw will take place and you can see below how much it will cost. The draws are totally random and regarding the costs of a 10 times draw you should at least have about +- 1500gps or 500 gems to successfully draw all ten runes or the draw will stop if you have less. You can´t control on which statue you will draw next but the best chance of getting a level 4 or 5 star rune is with the statue most right.
Ad blocker interference detected!
Wikia is a free-to-use site that makes money from advertising. We have a modified experience for viewers using ad blockers

Wikia is not accessible if you've made further modifications. Remove the custom ad blocker rule(s) and the page will load as expected.