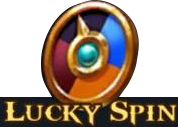 Lucky spin is a sort of slots game where the player can spend
gems in
order to win more gems,
coins
, and
creatures
. Rare cards can sometimes be added after a certain amount of spins.
5 spins will grant you 1x free spin.
Mechanics
Edit
It is not currently known how great the winning chances are of promo cards. If someone have more detailed info about this, feel free to add it!
Pictures
Edit
Ad blocker interference detected!
Wikia is a free-to-use site that makes money from advertising. We have a modified experience for viewers using ad blockers

Wikia is not accessible if you've made further modifications. Remove the custom ad blocker rule(s) and the page will load as expected.