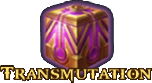 What is it?
Edit
Transmutation is an event where the player can exchange cards and roll a new, possibly 5-star card. Transmutation was a new feature introduced in the 8.0.0 update of Deck Heroes.
Find more upcoming potential changes and features in the Changelog.
You will only get the stated rewards upon successful transmutation.
You'll get a random item if the transmutation fails.
In the event of a failed transmutation, your materials will be retained if Protection is active.
You'll lose all materials if the transmutation is successful, even if Protection is active.
Try using Insight to increase your chances of success!
The player needs to add the specific cards + a wildcard (an extra Creature card, usually specified as either any 4-star or 5-star Creature) in order to get a chance at Transmutation.
For example, in the event held between November 29th - November 30th 2015, the player could Transmute the cards Grand Mage, Naga Mistress, Tauro General, Dullahan, + a wildcard, in order to receive a 5-star Bewitcher card. The transmutation attempt cost 500,000 gold.
Recipe Chart
Edit
A player can add insight levels for Gems to increase the chance of getting the wanted Creature from the Transmutation process. The insight levels are as follows:
None - free
Low - 99 Gems
Medium - 400 Gems
High - 950 Gems